Stoners unite to celebrate for today in 1890 a true legend was born; Colonel Harland Sanders, founder and face of Kentucky Fried Chicken. Before he became the chicken colonel in his 60's he did a whole range of other jobs including delivering babies, practising law and operating a steamboat ferry. Although Sanders falsified his date of birth to enlist in the U.S. Army in 1906, he only did a short stint in Cuba before being discharged. His honorary colonel status was awarded to him by the governor of Kentucky in 1935 and again in 1949, after which he started looking the part with his signature white suit, black string tie and bleached moustache and goatee to match his hair. The Colonel passed in December 1980 at the age of 90.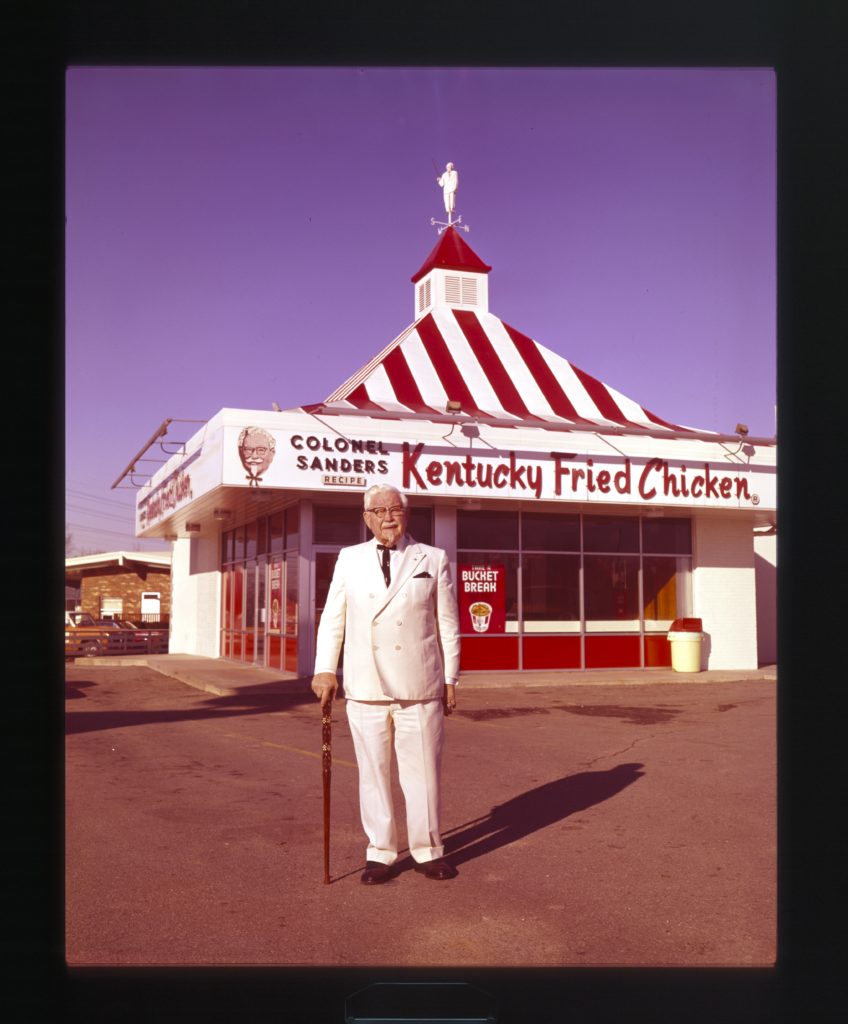 Kentucky Fried Chicken has more than 24 000 stores in over 145 countries! The recipe, said to consist of eleven secrets herbs and spices, was perfected in 1939 at the Sanders Cafe, which was located right across the road from the original gas station where the Colonel started serving country ham and steak dinners in 1930. The very first KFC franchise was opened in Salt Lake City, Utah, in 1952.
In 1955, Colonel Sanders filed for a copyright on the name Kentucky Fried Chicken as well as patented his special cooking method to serve up perfectly crispy and fall-off-the-bone chicken. The Colonel sold KFC corporate in 1964 for $2 million but decided to stay on as the official face of the company, which went public in 1966 and listed on the New York Stock Exchange in 1969. There have been a few changes of ownership, with the last being PepsiCo, Inc. who acquired KFC global at a staggering $ 840 million in 1986.
Kind for Cures, also also-known-as KFC, is a medical marijuana dispensary that took over a building that housed a Kentucky Fried Chicken previously. The owner, who opened the shop in 2009, decided to keep the front of house shop fittings that were left behind as well as fashioned decor items from scrap metal from the kitchen equipment. The roof was left red initially with the acronym KFC lambasted on the shopfront windows in green paint, which changed when the owner was threatened with a lawsuit for trademark infringement. The new chickenless KFC managed to drum up nationwide attention receiving an award by the LA Times in October 2009 for the Best Reappropriation of a fast-food restaurant. The following year, the creators of South Park brought the world; Medicinal Fried Chicken, an episode dedicated to the Kind for Cures' story. Unfortunately, KFC closed its doors for good in 2015.
Make your own fried chicken inspired by both the original fried chicken recipe by Colonel Sanders and the medical marijuana turned KFC store in Los Angeles. The eleven herbs and spices in our recipe are from the what's believed to be the original recipe! In August 2016, the Chicago Tribunal shared a handwritten version of the Colonel's secret recipe. It was willingly surrendered by Sander's nephew; Joe Ledington, during an interview with reporter Jay Jones.
Celebrate Colonel Sanders with your own homemade Kush Fried Chicken
Cuisine: American
Ingredients
Dry Dip

500ml White flour

5ml Salt

8ml Thyme, dried

8ml Basil, dried

5ml Origanum, dried

15ml Celery salt

15ml Black pepper, ground

15ml Mustard, dried

60ml Paprika

30ml Garlic salt

15ml Ginger, ground

45ml White pepper, ground

Wet Dip

250ml White flour

2 Eggs, large

250ml Light beer

To Fry

500ml Vegetable oil

1.2kg Chicken, pieces of your choice
Directions
Mix all the Dry Dip ingredients in one bowl, and the Wet Dip ingredients in another.
Heat the vegetable and cannabis-infused coconut oil in a fryer if you have one, otherwise, a wok or a deep pot will do the trick.
One at a time coat the chicken pieces in the Dry Dip, before dipping it into the Wet Dip and into the Dry Dip again.
Deep fry the chicken until golden brown, drain off the excess oil and enjoy!
Notes
TIP: Make a hot sauce to literally blow your brains out by heating 60ml of hot sauce with 30ml of cannabis-infused coconut oil until well combined.