If you're still debating whether to get a grinder or not, then this hamburger grinder should convince you to do it!! This rad grindelpass has been designed for stoned citizens who love hamburgers so much, they want to sew their asses shut. The hamburger grinder might not be as flashy as these, but it delivers. This unique and funky mole has sharp teeth, a built-in screen, magnetic top closure, and a threaded base that screws snugly shut. It's compact in size, and yes, those sesame seeds are 3-D!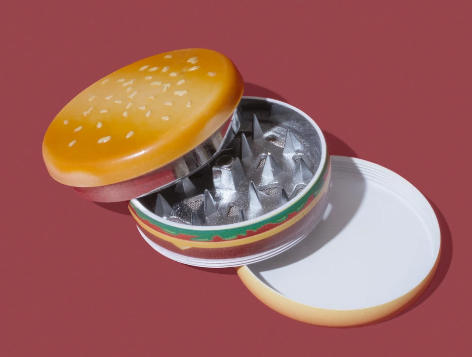 The great-minds behind this design is Another Room, a fem-powered empire that creates products for those going somewhere, nowhere, and everywhere. The company creates merchandise for your smoking pleasure and aims to maximize your opportunity for leisure. Or so they say. All the weed toys under their portfolio are designed to easily fit into pockets, packs, and personalities.
Stoners who love a toothsome hamburger with fries on the side will appreciate this combo set from rollingpaperdepot.com, which comes with a French fries rolling tray and coca-cola stash box.