New and exciting drinks trends are always popping up, from craft beer to low ABV drinks and now cannabis cocktails! Drinks doused with dagga is not exactly a new trend, but one cannabis company is doing things a little differently. purejuana is a single serving sachet of water-soluble powder with all the benefits of marijuana. It is vegan friendly, gluten-free and low in calories. Simply dissolve the powder in a beverage of your choice to make crafty cannabis cocktails for any occasion. Like the company says; Drink your cannabis!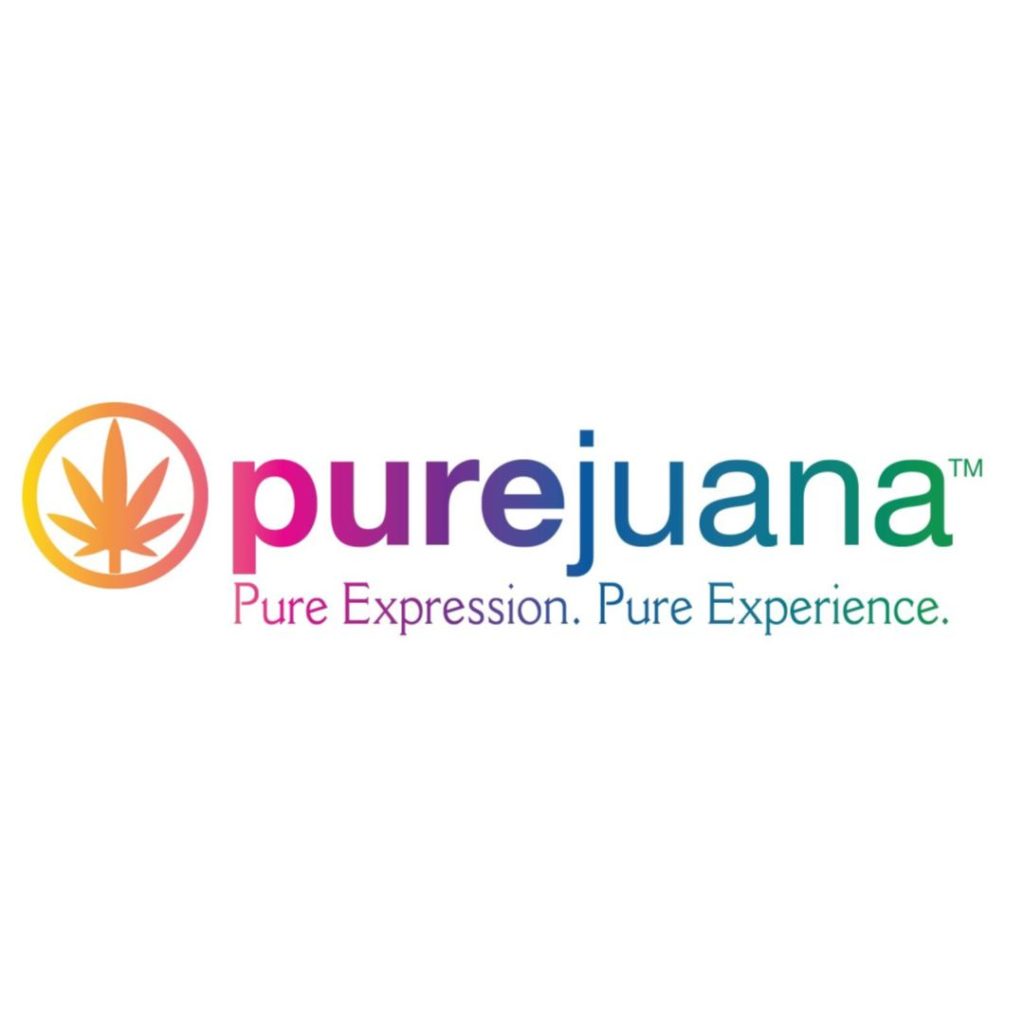 Matt Cohen, the founder and CEO of Lively Spirits says: "Without question, the future of the adult beverage sector is cannabis, and the cocktail is a familiar and accessible format ripe for innovation".
purejuana is an excellent alternative for making all-natural, good-for-you craft cocktails that skip the booze, the calories and the hangover! Most other cannabis beverages are made with THC distillates, a highly processed concentrate that does not contain naturally occurring terpenes and flavonoids.
THE COMPANY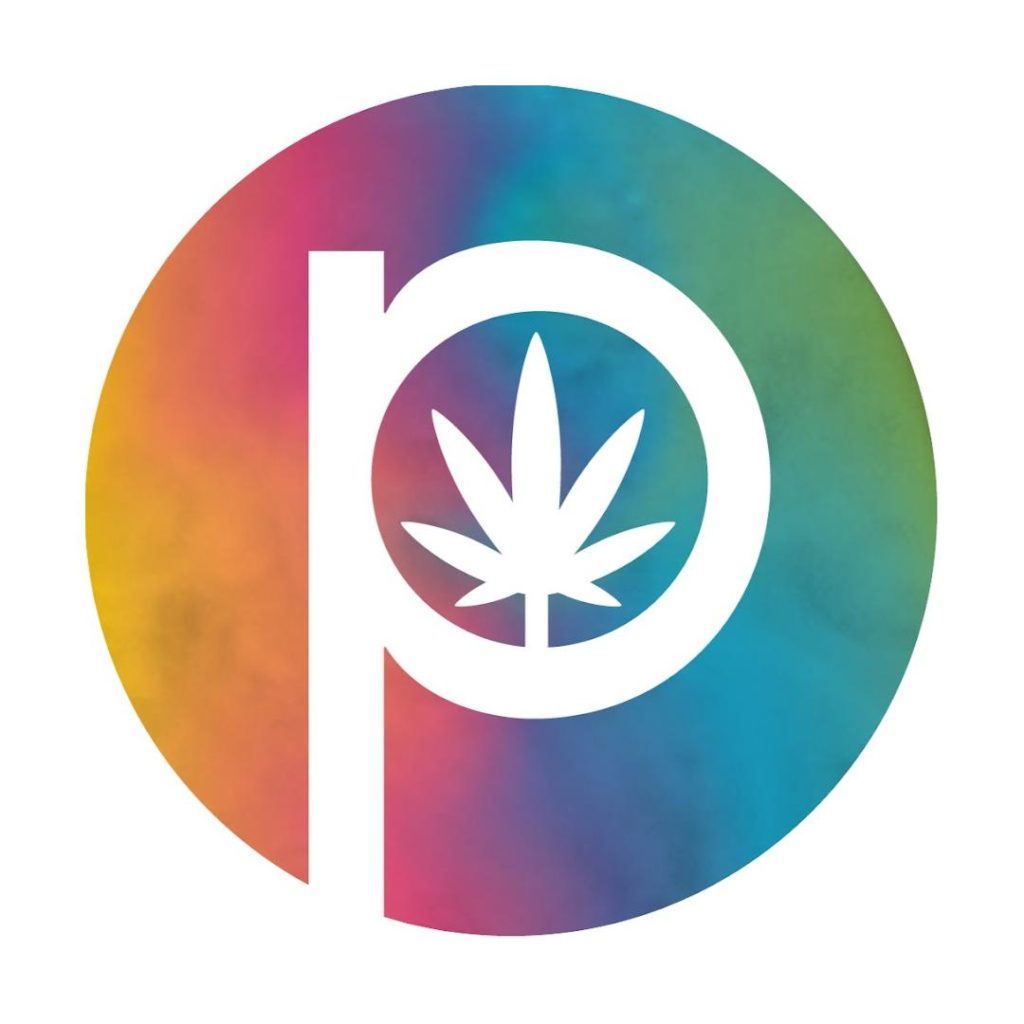 Lively Spirits is a psychotropic spirit company that is disrupting and evolving the adult beverage category with purejuana, a water soluble powder with all the goodness of the cannabis plant and America's first dry spirit brand. The California based company was co-founded in 2020 by Matt Cohen and Parker Steele.
"With purejuana, we are pioneering a rapidly dissolving dry spirit that delivers a true alcohol replacement, right down to the buzz, without diluting the distinct combination of flavors, aromas and psychoactive effects unique to each cannabis cultivar and the connoisseurs who appreciate them." says Matt.
THE PRODUCT
purejuana is a liquid soluble powder that is used instead of alcohol to create crafty cannabis cocktails. The idea behind this pot product was conceived around other plant-derived spirits like mezcal. It is a stable powder that stays fresh without the need to add any additives, the result? The clean, unadulterated taste and aroma of cannabis flowers in your favourite beverage!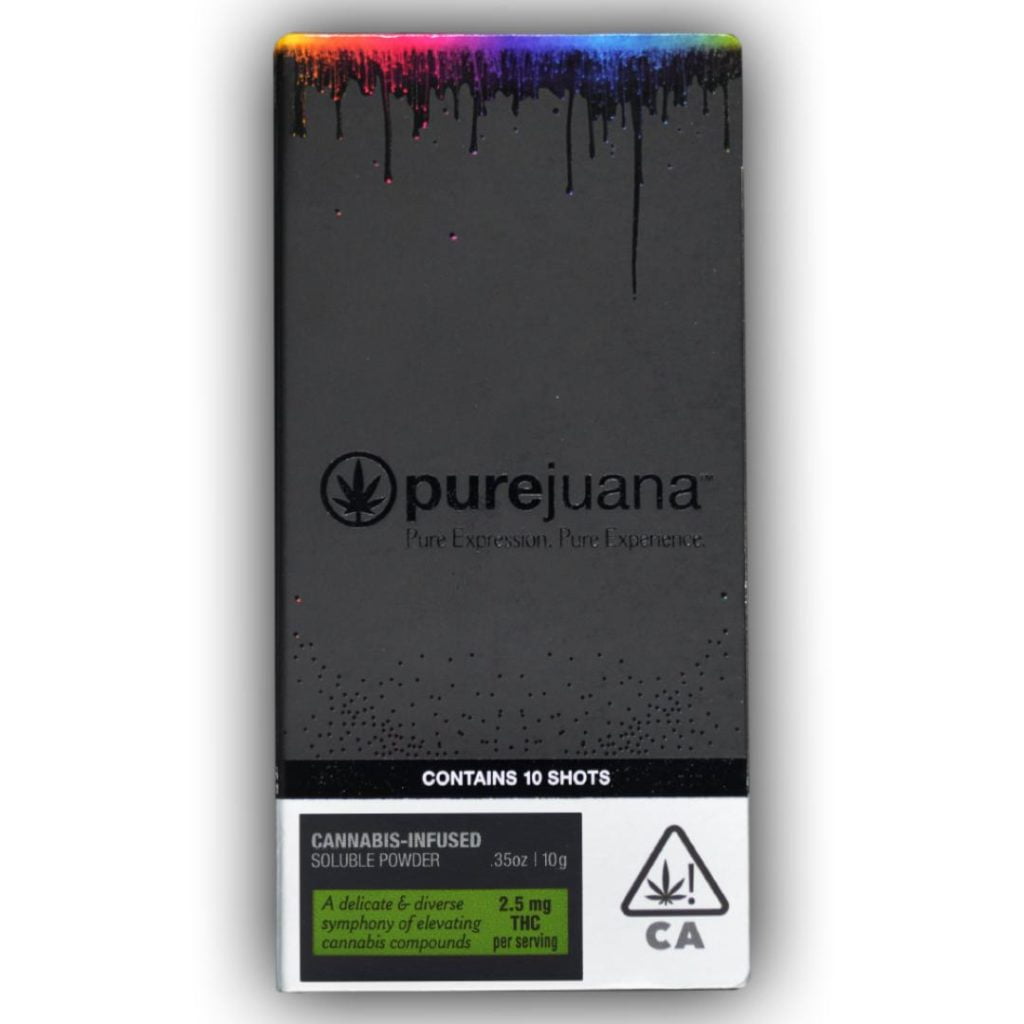 purejuana products are derived from fresh organic, sun-grown cannabis flowers that are sourced ethically and responsibly. Flash-freezing the cannabis preserves the integrity of the pot plant and the natural flavours, aromas and psychoactive effects of each strain. Then, with the help of some top-secret technology, the psychoactive essence is captured and preserved. Every sachet of purejuana contains more than a 100 cannabis compounds thriving in harmonay to deliver a full-spectrum experience.
The strains used to produce purejuana are chosen for their unique flavours and interesting effects. purejuana currently has five strains; Venom OG, Blue Dream, Super Lemon Haze, Purple Punch and XJ-13; with future plans to add to this lineup and release limited offerings.
purejuana comes in three colour-coded potency levels, the green label has 2.5mg THC per sachet. The yellow and red labels have 5mg and 10mg THC respectively. Each single shot sachet is the ideal serving for one drink, the duration and effect of purejuana is comparable to that of a single serving of liquor.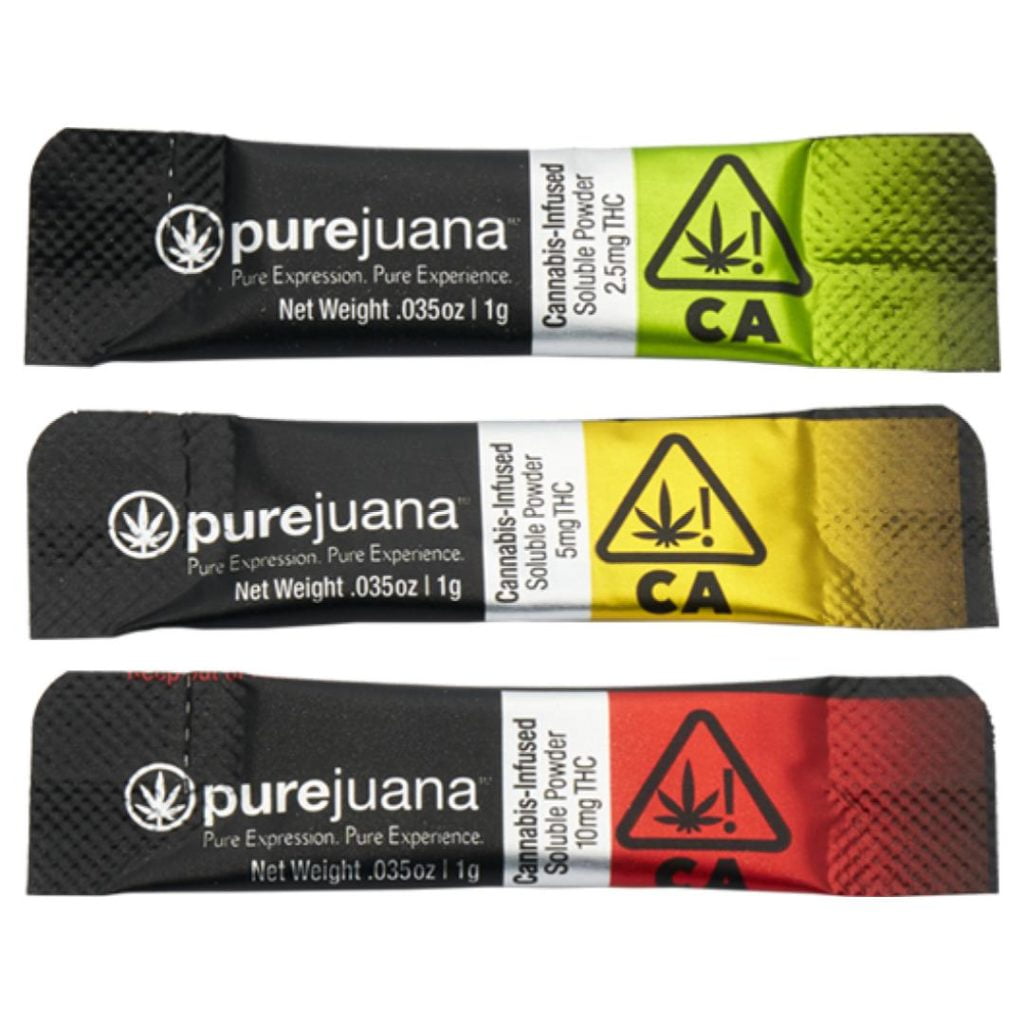 purejuana red label sachets are sold in boxes of ten, retailing at around $23, or a single sachet for ~$3. The green and yellow potency levels are only available in boxes of ten.
HOT IT FEELS
The measured dose means you can expect a sessionable and socially elevating experience. The rapid onset and elevation is an experience similar to that after a single serving of alcohol and lasts about as long.
You should feel social, spirited and slightly euphoric, however, each person has a unique endocannabinoid system, metabolism and tolerance to THC.
COCKTAIL RECIPES
purejuana has partnered with some of the best and most celebrated bartenders to develop non-alcoholic cocktail recipes to showcase the distinct flavours and aromas of various cannabis strains
The Jimi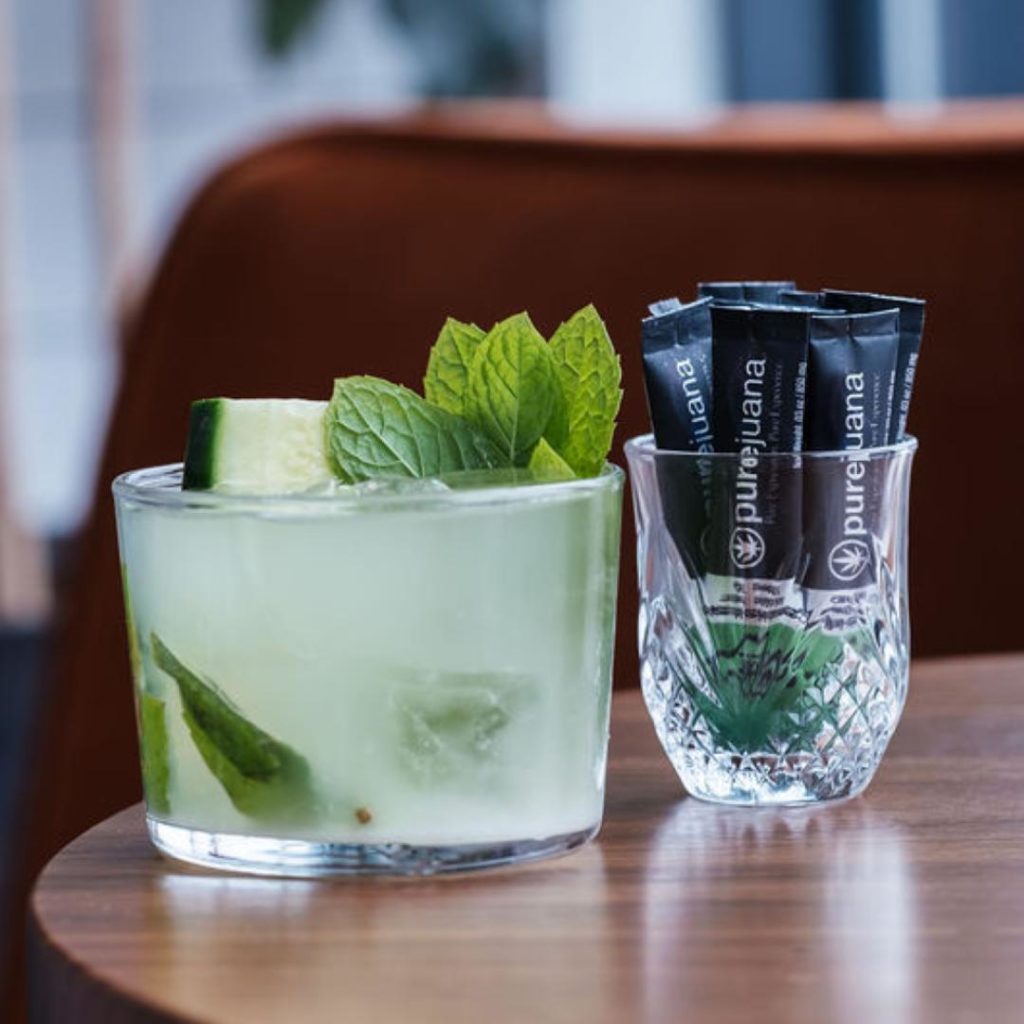 The Jimi
3 Cucumber wheels

25ml Fresh lime juice

25ml Coconut water simple syrup*

1 purejuana XJ-13 shot
Directions
Muddle the cucumber in a cocktail shaker.
Add the lime juice, coconut water simple syrup and purejuana XJ-13.
Shake, strain and garnish with a fresh mint sprig
*Coconut water simple syrup is made with a ratio of 1:1 of coconut water and demerara sugar. Simply heat the ingredients in a pot until the sugar has fully dissolved.
Chronic & Tonic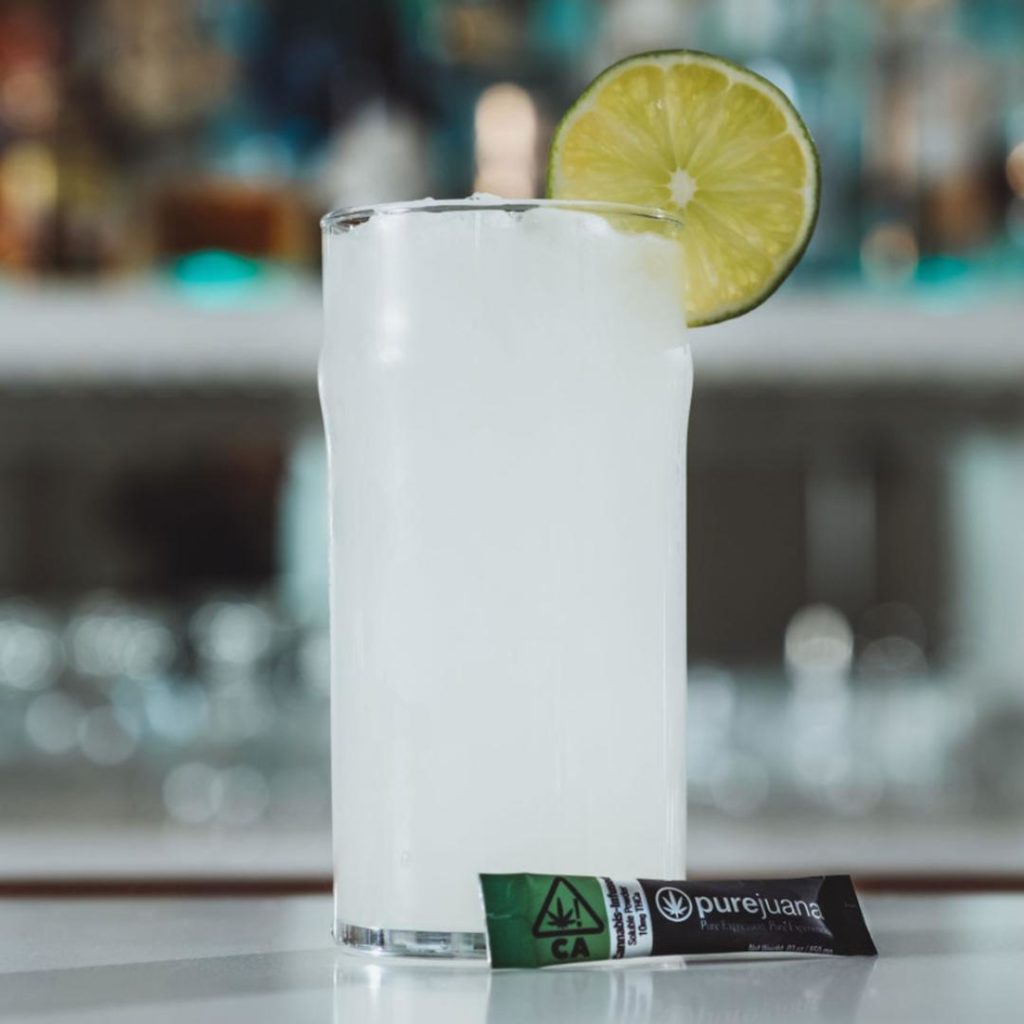 Chronic & Tonic
75ml Coconut water

50ml Tonic water

12.5ml Fresh lime juice

1 purejuana Purple Punch shot
Directions
Combine the coconut water, tonic water and lime juice in a tall glass.
Dissolve the purejuana Purple Punch in the liquid.
Add crushed ice, stir and garnish with a lime wheel.
High Tea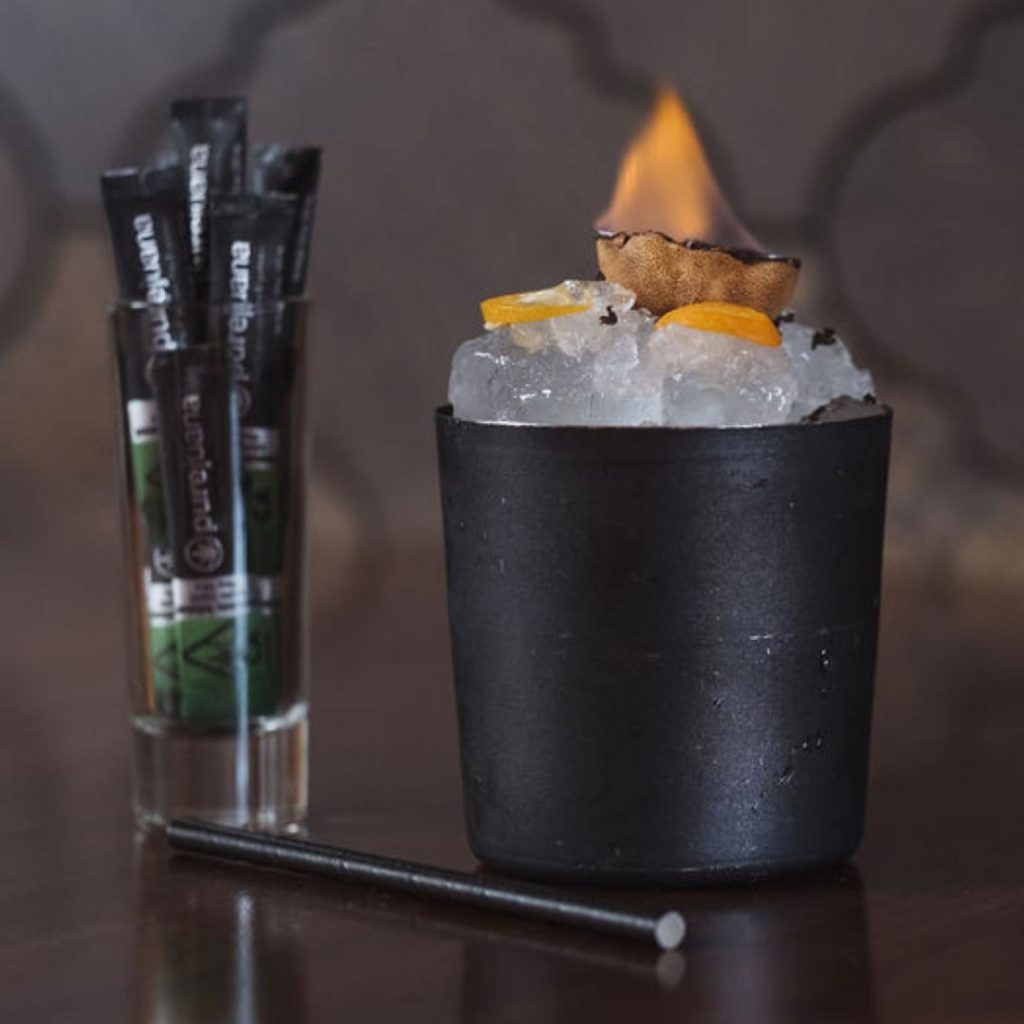 High Tea
1 Kumquat

40ml Lemon Juice

50ml Earl grey syrup**

12.5ml Ginger root juice

1 purejuana Venom OG shot
Directions
Muddle half the kumquat in a cocktail shaker.
Add the lime juice, earl grey syrup, ginger root juice and purejuana Venom OG.
Shake, strain over ice and garnish with the remaining half of the kumquat.
**Make early grey tea syrup with a 1:1 ratio of water and granulated sugar. Add one scoop of loose early grey tea leaves for every 250ml liquid. Bring the water and sugar to a boil until dissolved, add the tea, allow to steep as it cools down.