Stoner style has often been synonymous with five-fingered marijuana leaves adorned with red, green and gold Rastafarian colours. That is until now! This year for the annual (un)official 420 festivities; Adidas has collaborated with South Park to bring you the adidas 80s South Park Towelie Shoes. Towelie Sneakers represent the unique culture of stoned citizens in the 21st century.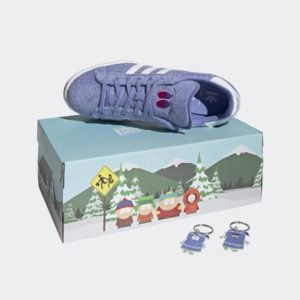 The real inspiration behind adidas' latest drop is Towelie; a walking-talking towel that embodies the spirit of a stoned citizen. He is often quoted as saying that he has no idea what is going on and often urges the residents of South Park to 'not forget to bring a towel'. You can't forget to bring a towel if the towel is attached to your sneakers, or can you?
Adidas has long collaborated with celebrities to represent the expression of craft, creativity and culture in their partnerships. Think Queen B, Bad Bunny and Jonah Hill to name a few. Adidas has worked closely with the culture icons at South Park to bring their vision to stoned citizens everywhere. They have managed to really capture the true spirit of Towelie's character in a pair of sneakers that are priced at a very modest $100.
THE TOWELIE SNEAKERS
A classic Campus 80s with a Chalk Purple terrycloth upper, the very same material Towelie is made of, with lase closures. The midsoles are white with rubber outsoles and each side is embellished with three white leather stripes.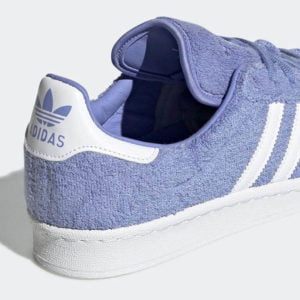 The Towelie sneakers also have a velcro-sealed stash pocket on the inside of the sneaker tongue, for you know…cannabis! The sneaker's tongue quite prominently features a set of eyes belonging to none other than Towelie.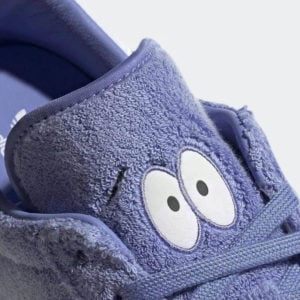 Take your Towelie shoes for a walk outside, and the UV sensitive eyes will sag and turn red! In the show, his eyes would immediately turn red and droop when he sparks up a doobie.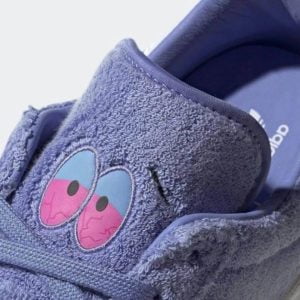 The Towelie sneakers are wrapped and packaged in a custom-designed shoebox and come accompanied by a pair of keyrings depicting Towelie before and after his smoke sesh.
UNBOXING
The adidas 80s South Park Towelie Shoes drop on April 20th on the adidas CONFIRMED app for only $100.