Glam up your mornings with a Crayfish Benedict that will make you feel like royalty and get you high. Crayfish Benedict is a spin on the traditional Eggs Benedict that replaces bacon with crayfish. Served on an English muffin with a poached egg and zolonnaise sauce, this is homemade luxury at its best!
History of The Benedict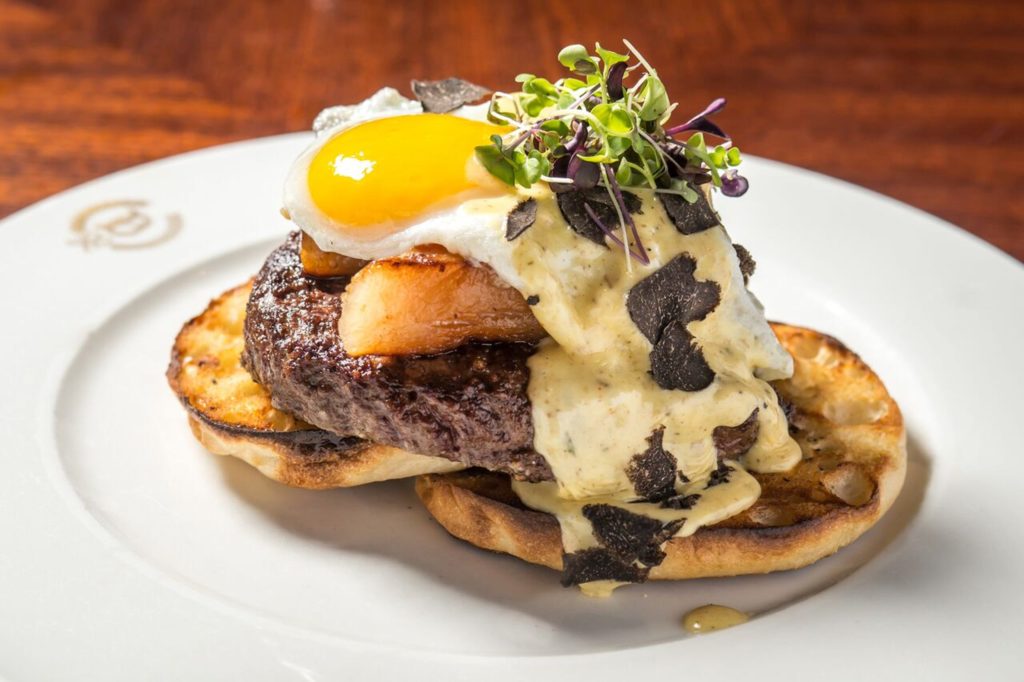 Whoever thought of this perfect breakfast or brunch dish certainly deserves a pat on the back! Turns out there are a couple of theories.
The earliest record traces back to the Delmonico's Restaurant in Lower Manhattan. Some claim that chef Charles Ranhofer came up with the combination in the 1860s when Mrs. LeGrand Benedict, one of the regular diners, grew bored of the menu and wanted something new. His recipe, which he dubbed Eggs a la Benedict, was published in his cookbook in 1894.
Another legend attributes the creation of the Eggs Benedict to Lemuel Benedict. After a night of drinking in 1894, Benedict wandered into the Waldorf Hotel in Manhattan and ordered a few components of this dish. Seeing this order come through, the maître d', Oscar Tschirsky, recognized how tasty it could be and added the dish to the menu. If this story is true, Tschirsky would be a pretty prolific creator, as he is also developed the Waldorf salad.
One more thing to note: Tschirsky also worked at Delmonico's right around the time eggs a la Benedict started to become popular. 
How To Boil Crayfish Tails
Don't be intimidated if you don't know how to cook crayfish tails. All you need is a large pot of boiling water to pop the tails in. Cook for 8-9 minutes, remove from the water and let stand on kitchen paper to drain. Use a pair of scissors to cut open the shell and the meat will pop out. It seriously couldn't be easier!
Crayfish Benedict With Zolonnaise Sauce
Course: Articles
This gourmet Crayfish Eggs Benedict will make lazy mornings extra special. The crayfish is pilled onto English Muffins, topped with a poached egg and drizzled with zolonnaise sauce to make you high!
Ingredients
2 crayfish tails uncooked

1 English muffin halved and toasted

1 handful rocket 

2 eggs
Directions
Bring a pot of water to the boil. Add in the uncooked crayfish tails and gently boil for 8-9 minutes. Remove with a slotted spoon and allow to drain on a coupe of sheets of kitchen paper.
Bring the pot of crayfish water down to a simmer and crack in two very fresh eggs, or use a silicone poaching pod if you only have shop bought eggs available. Poach until cooked through. Remove with a slotted spoon and pat the underneath of the spoon with kitchen paper to remove all excess water.
Toast the English muffin and pop half on each plate.
Add a little rocket to each muffin half.
Take a crayfish tail and cut up the back with a pair of strong kitchen scissors. Pull the shell apart and remove the lobster tail. Pop in onto a chopping board and, using a sharp knife cut down the centre lengthwise. Pop the two halves on one muffin.
Top the crayfish tails with the poached eggs, then dollop on a tablespoon or so of the Zolondaise sauce. Serve immediately & enjoy!