A cook who starred in the Great British Bake Off has developed a recipe for what is claimed to be the world's first mince pie containing cannabis extract.
Howard Middleton from Sheffield appeared on the fourth series of the TV contest in 2013. During the show, the former Council officer surprised the judges by introducing hemp flour into his baking.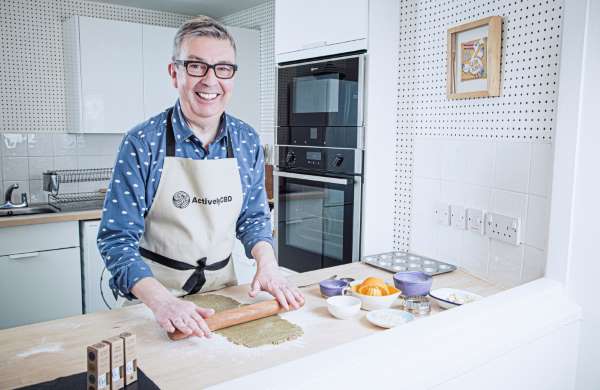 After the Great British Bake Off, Howard wrote a book called Delicious Gluten Free Baking and is now an online teacher with the company Bake with a Legend.
The World's First Cannabis Infused Mince Pie
Howard's frangipane-topped mince pie calls for hemp flour and hemp oil as well as a frosting which includes an optional 10mg of CBD oil. The recipe is gluten-free and vegan, making it perfect for those following a plant-based and gluten-free diet.
Howard has partnered with ActivelyCBD.com, a retailer who sells edible CBD products such as oils, drinks and chocolates, to develop the recipe. The company's wholesale manager, Jonathan Thorpe, describes Howard as a "hero" and the mince pie with cannabis extract as "simply showstopping".
Howard is a hero of ours thanks to his attitude in the kitchen, working with a variety of different ingredients to suit individuals' dietary requirements and tastes.

The mince pie recipe he has created is simply showstopping – and your gluten-free and vegan friends can enjoy them too.Jonathan Thorpe from Actively CBD
Mince Pie With Cannabis Extract
Course: Articles
Ingredients
For the pastry

75g plain gluten-free flour, plus extra for rolling

20g icing sugar

10g hemp flour

15g coconut flour (or replace with more plain gluten-free flour)

25g ground almonds

A half pinch of salt

⅛ tsp gluten-free baking powder

65g cold vegan butter substitute, cubed (or you can use a mix of this and hard coconut oil)

½ tsp grated orange or lemon zest

¼ tsp ground cinnamon (optional)

3 – 4 tbsp orange or lemon juice

For the filling

12 tsp mincemeat (suitable for vegans and gluten-free)

For the frangipane topping

2 tbsp hemp oil

90g caster sugar

3 – 4 tbsp aquafaba (drained water from a can of chickpeas)

150g ground almonds

½ tsp almond extract

A handful of flaked almonds

To finish

Icing sugar

A little green food colouring

10mg full spectrum CBD oi
Directions
To make the pastry, put the flours, icing sugar, ground almonds, salt and baking powder in a mixing bowl and rub in the cubes of vegan fat (or you can pulse in a food processor).
Stir in the zest and cinnamon, then stir in the juice and bring the dough together until it forms a smooth ball.
Roll out on a floured surface (it's easiest to do this in batches), then stamp out circles using a 7cm cutter and ease these carefully into a 12-hole shallow tart tin. Chill in the fridge or freezer, whilst you make the frangipane topping.
Preheat the oven to 190°C/170°C fan.
To make the frangipane topping, beat the oil with the sugar and aquafaba, then stir in the ground almonds and almond extract and mix well.
Put a spoonful of mincemeat in each pastry case, then top with frangipane and level off. Sprinkle with flaked almonds.
Bake for about 15 minutes until the topping is golden and firm and the pastry has browned.
Leave to cool for five minutes in the tin, then remove and finish cooling on a wire rack.
Make a water icing with icing sugar, a little green colouring and water until you have a smooth consistency that's not too runny. If you're aged over 18 and you've spoken to a doctor, add in a serving of full-spectrum CBD oil if you like.
Dust the mince pies with icing sugar, then pipe or drizzle over the green icing artistically.
Recipe Video