We aspired to make a list of the Top 10 Stoner Movies, there were so many great ganja flicks to consider for the list we had to set some ground rules. Stoner films have been around for a while now, from the original Reefer Madness that premiered in 1963 to its 2005 comedic musical parody and beyond!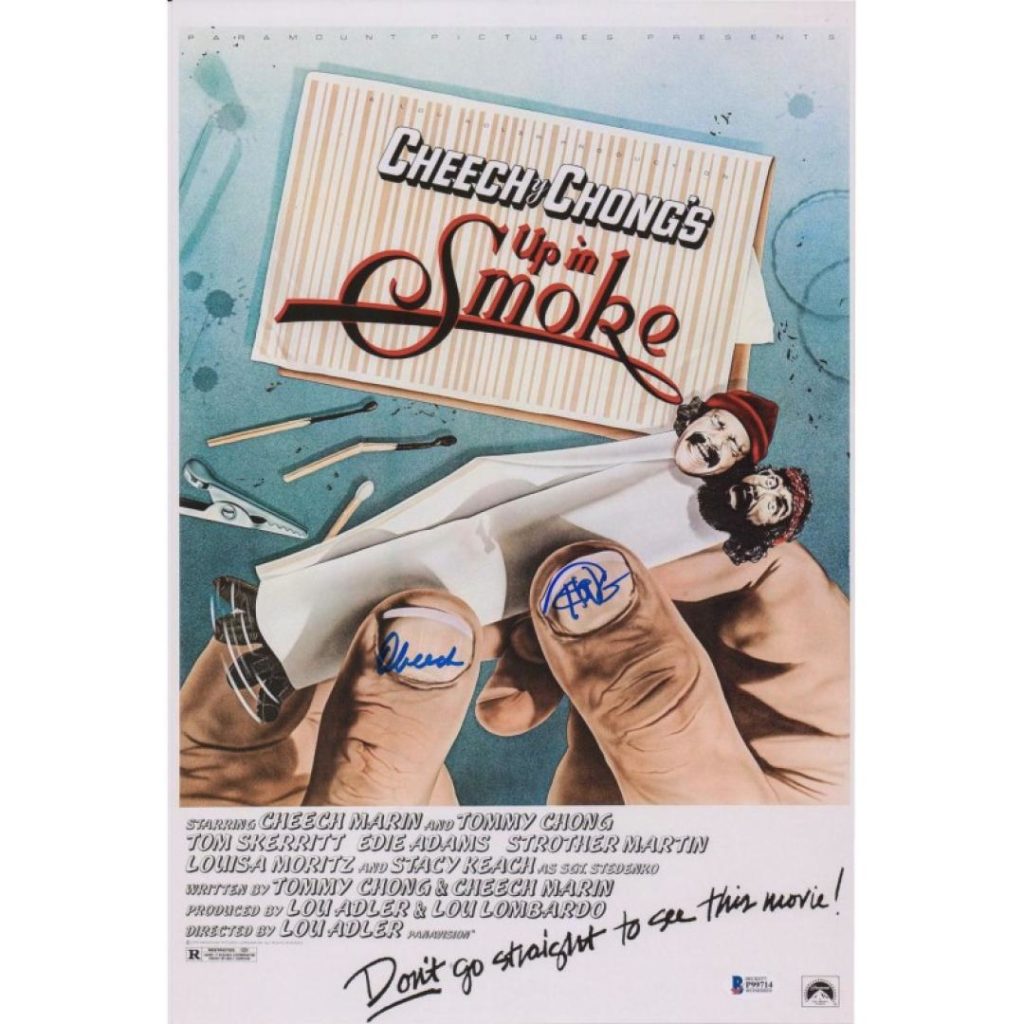 The godfathers of this comedy sub-genre are none other than Cheech and Chong. The duo first premiered in feature films together during the 1970s. Their films were greatly based on the drug- and counterculture movements during the hippie era. For our list of Top 10 Stoner Movies, we considered our favourite flicks that premiered after the turn of the century, with an R rating!
Reefer Madness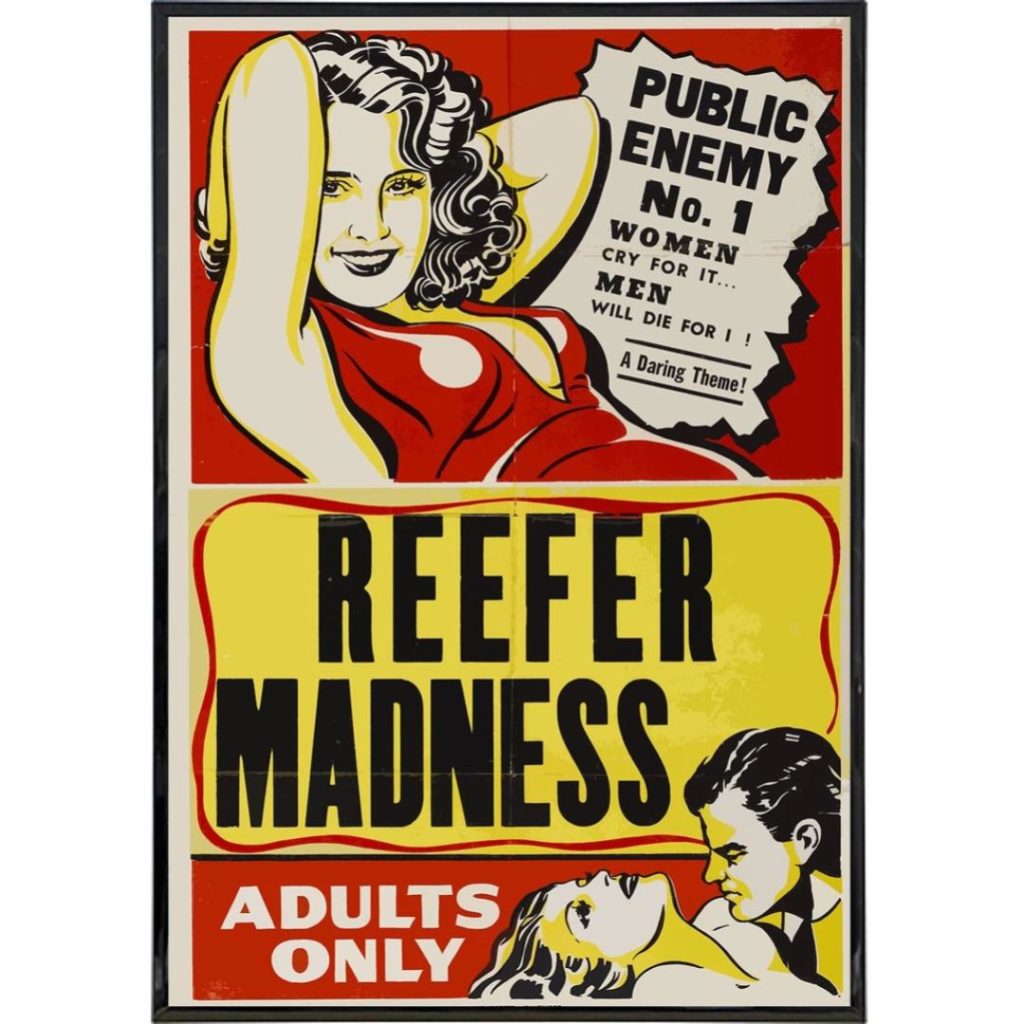 This American propaganda motion picture was intended to scare kids away from the "dangers" of "the gateway drug" marijuana. Many consider it the first "real" Stoner film. The movie revolves around the theatrical chain of events set off by a bunch of high school students who agree to try marijuana for the first time. The melodramatics include a hit-and-run, murder, suicide, conspiracy, attempted rape and hallucinations ending in a final descent to madness. All because of their marijuana "addiction"!
Stoner Film
What makes a comedic movie a Stoner film? Well, firstly you will relate to some or all of the stoner characters. The sub-genre is classified as films where cannabis is one of the main themes, inspired much of the plot or simply when Mary Jane is consumed recreationally. We believe a good Stoner film should represent the cannabis culture, be rewatchable and ROFL hilarious! Our list of the Top 10 Stoner Movies checks all these boxes.
Munchies
Roll a few joints, prepare a pot of popcorn and retrieve your favourite scooby snacks from their hiding spots and dugouts. Maybe even try your hand at some DIY recipes like Mac & Cheese stuffed Bacon Quesadilla or these delicious Dopey Doughnut Holes!
Here is our list of the Top 10 Stoner Movies, by Stoners for Stoners.
Top 10 Stoner Movies
How High
How High was released in 2001 with an R rating for pervasive drug use, language and sexual dialogue.
The flick portrays a pair of stoners who are complete strangers. They meet up by chance before they are due to take their college entrance exam. Silas and Jamal smoke some magical marijuana that helps them ace their exams. They are fast-tracked to the ivy league life of a Harvard University student. Things could not be going better, that is until their magic marijuana stash runs dry. The two friends are left to fend for themselves without the help of their secret weapon.
How High 2 was released on 20 April 2019, aka 420 Day.
Super Troopers
Super Troopers premiered in 2002 with an R rating for language.
A bunch of Vermont state troopers are out to have a good time. They are die-hard pranksters with a knack for screwing up on the job. The troopers are forced to get their acts together and earn their keep as a looming budget cut threatens their livelihoods. When a dead body is found, the five friends take the opportunity to solve the crime before their arch-rivals at Spurbury P.D. and save their jobs!
The Super Troopers sequel was released in 2018.
Jay and Silent Bob Strike Back
Jay and Silent Bob Strike Back was released in 2001 following a bunch of films inspired by the protagonist duo. The film is rated R for nonstop crude and sexual humour, strong pervasive language and drug-related content.
Two ganjapreneur best friends are served a restraining order to keep them from selling cannabis in front of a convenience store. A friend tells them a movie is being made featuring "Bluntman and Chronic", a set of characters based on their likenesses. They set out to collect what they think is a huge paycheck. On their journey from New Jersey to Hollywood, they pick up a hitchhiker and end up learning some important life lessons along the way. They encounter jewel thieves and a hapless wildlife marshal before they set out to ruin the movie they are set to gain no profit from.
Jay and Silent Bob Reboot was released in 2019.
Grandma's Boy
Grandma's Boy premiered in 2006 with an R rating for drug use, language, crude and sexual humour and nudity.
Alex found himself homeless after his roommate spent their rent money on hookers. The pothead protagonist is a 35-year-old video game tester who is forced to move in with his grandmother and her two best friends. The wacky elderly ladies spend all day watching television, which affects Alex's social life, his herbaceous habits and his rivalry with a game designer. All along Alex has a crush on a co-worker, his courtship plans are in limbo as he comes to terms with his new normal. 
Soul Plane
Soul Plane was released in 2004 with an R rating for strong sexual content, language and drug use.
Nashawn lost his pet after a ridiculously awful flight and ended up winning a multimillion-dollar settlement. Determined to create a better flying experience that caters to an African-American clientele. Nashawn launches Soul Plane with the idea of a full-service airline with ridiculous "fly" amenities like an onboard dance club. The airline hits a snag on its maiden flight captained by the smooth Capt Mack, played by none other than honorary Stoned Citizen Snoop Dogg. 
Pineapple Express
Pineapple Express has been on my Top 10 Stoner Movies list since it's release in 2008. The weedie film is rated R for pervasive language, drug use, sexual references and violence.
A comically creative process server and ganja gluten aspire to be a radio talk show host. Dale visits his pot dealer where he smokes a rare strain of cannabis, so rare they are the only two in town who have tried Pineapple Express. A roach Dale dropped after witnessing a murder leads the killer drug lord and a corrupt cop right to him and his dealer; Saul. The budding buddies seek advice from a middleman dealer who sells them out to save his own life. Dale's girlfriend and her family are unwillingly involved and end up in hiding.
In April 2013 Sony released a fake trailer for a sequel as a marketing ploy to promote Seth Rogan's new flick; This Is The End. I am still hopeful for a sequel sometime in the future.
Ted
Ted is a fantasy comedy that was released in 2012 with an R rating for crude and sexual content, pervasive language and drug use.
A little boy's birthday wish comes true when his beloved teddy bear comes alive and vows his eternal friendship to John. Fast forward 30-years later and John and his teddy are still inseparable. John's want-to-be fiancee is not happy with the foul-mouthed pair's constant weed smoking and boozing. She gives John an ultimatum to choose between her, his long-time girlfriend and Ted the talking teddy. Unbeknown to Ted, who is forcefully reintroduced to the job market, he has a super fan who is out to get him, literally!
The Ted sequel premiered in 2015.
Harold & Kumar Go to White Castle
Harold & Kumar Go to White Castle is the first of an exciting Stoner film franchise that premiered in 2004 with an R rating for strong language, sexual content, drug use and crude humour.
Kumar is a fun-loving, bong toking med-student. His nerdy best friend; Harold is an accountant who got caught up being a responsible adult. Harold finally agrees to chill and the two can get stoned in front of the TV, they are utterly bewitched by a commercial for White Castle. Enroute to the closest branch of the fast-food chain they run into some fiery rednecks, a racist cop and a whole bunch of trouble. "Straight" Neil Patrick Harris steals their car and the pair end up having some pretty wild adventures with the forest critters. All the while they are jonesing to satisfy their munchies with the delicious White Castle sliders.
Harold & Kumar has since had to Escape from Guantanamo Bay in 2008 and had a Very 3D Christmas in 2011.
This Is The End
This is the End was released in 2013 with an R rating for crude and sexual content, graphic nudity, pervasive language, drug use and violence.
When Jay Baruchel landed in LA he was ready to have a good time with his long time pal Seth Rogen. They attend James Franco's housewarming party with a bunch of celebrity friends like Danny McBride and Craig Robinson. Suddenly the Rapture hits and the group of friends find themselves fighting to survive the biblical apocalypse. The group not only faces cabin fever and dwindling supplies, but they also face one another in the ultimate battle for survival.
Knocked Up
Knocked Up premiered in 2007 with an R rating for sexual content, drug use and language.
Alice is serious about her career as a journalist. She hits a major bump in the road after a one-night stand with an irresponsible stoner result in pregnancy. Alice decided to give Ben a chance to prove he is father material instead of raising the baby by herself. The two go on a self-exploratory journey to figure out how they will do as new parents and if they are even compatible life partners.
A spin-off of the movie was released in 2012 named This is 40.