Put sustainability at the heart of your cooking and make a green prawn bisque like a proper eco-chef. Mindful stoned citizens with a refined taste for expensive goods and haute cuisine will appreciate this French classic. Effortless and made with the planet in mind, this green prawn bisque is in all essence conscious luxury in a bowl!
What exactly is bisque?
For those who pick hamburgers before pies, bisque is a thick and creamy soup made with shellfish. Culinary legend Julia Child was one of the first celebrity cooks that showed the world you don't have to be perfect to make a perfect dish. Her famous Bisque De Homard A L'americane' recipe in her cookbook Mastering the Art of French Cooking is a culinary masterpiece. Julia writes that the trick to perfecting bisque lies in the broth and butter. Now we are not talking Knorr stock and Rama margarine people, please!! To cook bisque like a Masterchef, you do need to make your own broth AND butter from the shells of the crayfish. Better to start cracking then!!
Life itself is the proper binge, didn't skimp on the good stuff in life or in the kitchenJulia Child
Taking Tips From The Trade
Taking a page from Julia's bible, Executive Sous Chef at The Table Bay Wesli Charles Jacobs creates dishes defined by quality, not quantity. Not a bad rule of thumb to follow, especially after FAO reports reveal that one-third of the food produced in the world is never eaten and simply wasted. Adapting the zero-waste movement, whose motto is: Refuse, Reduce, Reuse, Recycle, and Rot.
With prawn bisque, you are guaranteed zero wastage as you will make use of the entire prawn and not just the meat.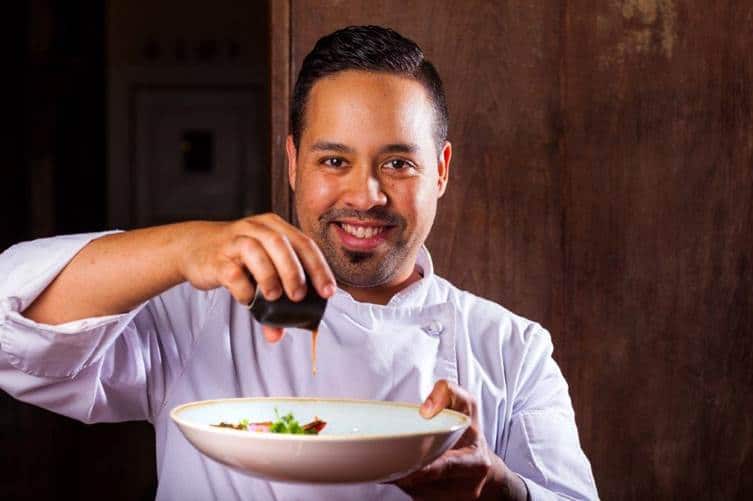 Feeding two birds with one scone
Built from ingredients that most restaurants would toss into the trash, his prawn bisque recipe demonstrates that resourceful, sustainable kitchen practices are perfectly compatible with the highest level of quality. Even more so, you can pull it off with very little effort, making it an post-pandemic pot party essential!
Green Prawn Bisque
Course: Dinner
Cuisine: French
Difficulty: Medium
This green prawn bisque is winter comfort food made with little effort and zero waste.
Ingredients
1 medium onion, finely chopped

1/2 large fennel bulb, chopped

1 carrot, chopped

2 bay leaves

1 garlic clove, crushed

1 tablespoon of tomato purée

150g of tiger prawn shell off, tail on

3 tablespoons of brandy

1l stock, made with 150g of prawn shells and 1l of just-boiled water

2 tablespoon of cannabis-infused coconut oil

salt

black pepper

Lemon juice, freshly squeezed
Directions
Heat the olive oil in a large saucepan. Add the chopped onion, fennel, carrot and bay leaves and cook gently over a low heat for 10 minutes, or until the vegetables are soft.
Add the crushed garlic, stir and cook for another minute before adding the tomato purée, prawn shells and brandy. Stir for 2 minutes, then add the stock and miso to combine everything. Cover the saucepan with a lid and simmer gently for 20 minutes over a low heat.
Remove prawn shells and liquidize the soup until smooth using a hand blender. Pass the soup through a fine sieve into a clean saucepan, taking care to extract as much liquid as possible.
Gently reheat the soup before adding a few drops of lemon juice and season with freshly ground black pepper and salt to taste.
Season prawns with salt, pepper, and sautéed in a pan till firm in texture.
When you are ready to serve, divide the soup between shallow soup bowls. Place sautéed prawn into the centre of each bowl and garnish with dill and a drizzle of double cream.